Art as a way ……and the journey to the unknown keeps beginning, again and again, with a blank sheet of paper that wants to be filled with drawings immediately, or that calls me quietly, waiting patiently to be given life.
With four or five years I discovered "art" without knowing what it was.
When the great sun wasn't shining outside I used to conjure up many shining suns inside, using a few chewed crayons, and I could hold them in my little hands, I would carry them everywhere and attach them all over the house, not always to everyone's enjoyment.
The joy that I felt in doing so was unstoppable, incomparable to other activities and evoked a subconscious source at a very young age, that provided me with light, warmth, beauty and happiness, even though it was bitter outside and the sun wasn't shining.
Up until now this creative source supports and directs my life providing me with the opportunity to allow my dreams, to arrange my world, and to perceive things in a childlike way, to paint light where it is dark, to create beauty where ugliness prevails and to just enjoy being.
I experience my life as a page in an immensely huge book. I just cannot stop reading, or rather, deciphering this page. Although I know each letter by now, the sentences are still fragile threads in an inaccessible woven fabric. I try to keep this chaos under control with my art. That is why most of my artworks are structured in projects.
That way, the Earth Project was started in 2009, then the idea of a complete Erdemuseum (Earth Museum) followed. The Earth Project is designed to connect the people of the world. I see (or is it a dream?) that not only the Earth is indivisible, also the mankind is facing the mission to become indivisible! And inside my head I can frequently hear John Lennon's song…….
´You may say I´ am dreamer, but I´ not the only one, perhaps one day you ´ll join us and the world will live as one´
Art as a way…..
From 1981 to 1986 I studied painting and sculpture at the University of Fine Arts "St. Joost" in Breda, Netherlands. At the universities of Utrecht (Netherlands), Antwerp (Belgium) and Berlin I completed my studies of philosophy with focus on sexual difference (Luce Irigaray, Julia Kristeva, Hélène Cixous). These contents had an influence on my life and artworks.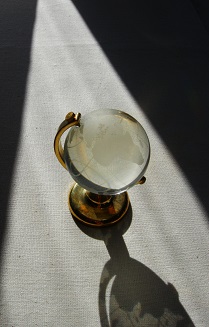 "L'Horizon, pour nous, n'aura jamais fini de se cerner, toujours ouvertes. Etendues, ne cessant jamais de nous déployer, nous avons tant à inventer de voix pour dire nous partout y compris nos failles, que tout le temps ne suffira pas. Nous n'aurons jamais accompli notre par cours, notre pourtour: nous avons tant de dimensions."
Luce Irigaray: Ce Sexe qui n'en est pas un.
Almost all of my artworks deal with feminine positions on different levels. I like to work with collections and many of my projects and artworks make part of a collection.
The Zen master Sekkei Harada says:
"There is only one human in this world we have to encounter." Who is this human? It is our true self. Unless we have encountered ourselves, it will be impossible to find true satisfaction and lucidity, there will always be a notion that something is missing. It is the aim of life to encounter oneself.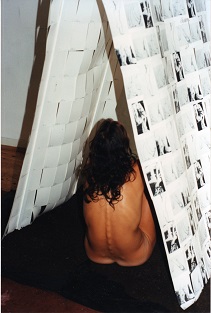 Projects / Exhibitions:
The "Work in Progress" project: "Die Erde ist unteilbar" (The Earth is indivisible)
The installation project: "Haar" (Hair) The Project:
"Hat ein Hund Buddha-Natur?" (Does a dog have a Buddha-nature?)
The Collection: "Models Unknown"
Drawn Series: "To wash my Live" – "To earth the corporal soul" – "To wash my (h)air" – "Die Vögel" (The Birds) – "Zeiträume" (Periods of Time)
Further information at: www.likoelan.com