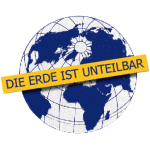 1000 languages means 1000 voices.
A language is connected to the vibrations of Earth and, if we believe it or not, it is possible to hear the voice of a country in its language.
Language is a voice of being.
The newspapers from different countries, that have been contributed to the Earth project, indicate this connection and the intention is to collect the sentence "The Earth is indivisible" in all languages of the world in the Earth Museum.
If you want to help the collection of translations shown below to grow, you are welcome. Send us the translation of the sentence "the Earth is indivisible" in a language that is still missing in our collection via commentary form, Blog Entry Blog-Beiträgen oder per E-Mail: info@erdemuseum.de.
Thank you very much in advance!
The translations:
Die Erde ist unteilbar (Deutsch – L.K.)
---
Toprak bölünemez
(Türkisch – Ercan Atak)
---
De aarde is ondeelbaar
(Niederländisch-Flämisch – L.K.)
---
The earth is indivisible
(Englisch -L.K. )
---
Jer bölinmas
(Usbekisch – Marta Stirner )
---
Jörðin er ekki til skiptana
(Isländisch- Gundlar Bjarnasson)
---
La Terre est indivisible
(Französisch – L.K. )
---
Dunia tidak berbagi
(Indonesisch – Pak Halim )
---
Namma Bhoomi Avibhajya
(Indien-Bangalore – Goethe Institut )
---
????? ?? ???????
(Russisch – Tatsiana Dzetil)
---
D'Ärda isch untüubar
(Schweizerdeutsch – )
---
????? je ?????????
(Serbisch – Barbara Lozar )
---
Zemlja je nedjeljiva
(Kroatisch – Boris Matas)
---
La tierra es indivisible
(Spanisch – )
---
Jorden är odelbar
(Schwedisch – Marika Gejrot)
---
ZIEMIA JEST NIEPODZIELNA
(Polnisch – Monika Brelak)
---
A Terra é indivisível
(Portugiesisch – Martina Sophie Pankow)